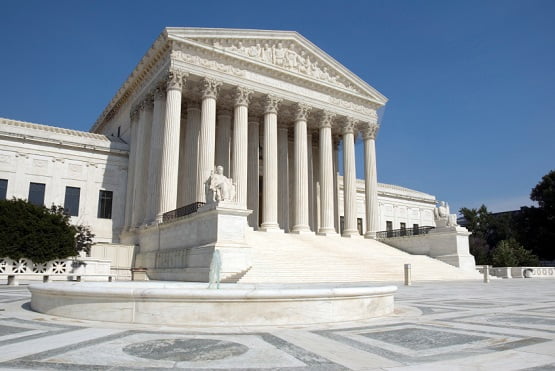 In about a month, the Supreme Court has gone from zero arbitration-centric cases set for review to four (five if you double count a consolidated case).
Just a month ago, we were reporting in SAA 2021-43 (Nov. 18) that, having just heard argument in this Term's only arbitration-related case then on the oral argument docket (Badgerow v. Walters, No. 20-1143), SCOTUS on November 15 agreed to review Morgan v. Sundance Inc., No. 21-328. Then, the Court in a December 10 Miscellaneous Order granted Certiorari in two cases, ZF Automotive US, Inc. v. Luxshare, Ltd., No. 21-401, and AlixPartners LLP v. The Fund for Protection of Investors' Rights in Foreign States, No. 21-518, and immediately consolidated them. The same Miscellaneous Order also grants Certiorari in Southwest Airlines Co. v. Saxon, No. 21-309 (ed: to be honest, we missed this case at both the District Court and Court of Appeals levels). And, just as we went to press the Court issued a December 15 Miscellaneous Order granting Certiorari in Viking River Cruises, Inc. v. Moriana, No. 20-1573. We discuss that latter two cases in this blog post.
Southwest: Split on Transportation Worker Definition
Federal Arbitration Act ("FAA") section 1 exempts from the Act: "contracts of employment of seamen, railroad employees, or any other class of workers engaged in foreign or interstate commerce." In New Prime, Inc. v. Oliveira, 139 S. Ct. 532 (2019), SCOTUS held unanimously that the FAA exempts from coverage independent contractors – i.e., not just "employees" – engaged in interstate commerce. As we have reported many times, though, there is a clear Circuit Court split on whether the section 1 exemption embraces only workers actually moving goods or people in interstate commerce (Fifth, Seventh, and Eleventh Circuits) or is to be construed more broadly to cover those who are part of the "flow" or "stream" of interstate commerce (First and Ninth Circuits). See, for example, Waithaka v. Amazon.com, Inc., 966 F.3d (1st Cir. 2020), Cert. den. (Jun. 21, 2021), reconsideration den. (Aug. 2, 2021). Compare to then-Judge Coney Barrett's Opinion in Wallace v. Grubhub Holdings, Inc., 970 F.3d 798 (7th Cir. 2020), covered in SAA 2020-31 (Aug. 19): "But to fall within the exemption, the workers must be connected not simply to the goods, but to the act of moving those goods across state or national borders."
Southwest: Case Below
This is precisely the question presented in the August 23 Petition in Southwest Airlines: "Whether workers who load or unload goods from vehicles that travel in interstate commerce, but do not physically transport such goods themselves, are interstate 'transportation workers' exempt from the Federal Arbitration Act." In the case below, Saxon v. Southwest Airlines Co., 993 F.3d 492 (7th Cir. Mar. 31, 2021), motion to stay mandate den. (Apr. 23, 2021), a unanimous Seventh Circuit held: "Latrice Saxon is a ramp supervisor who manages and assists workers loading and unloading airplane cargo for Southwest Airlines Company. After she brought a lawsuit against her employer, Southwest invoked the Arbitration Act. Saxon asserted that she was an exempt transportation worker, but the district court found her work too removed from interstate commerce and dismissed the case.[] We reverse. The act of loading cargo onto a vehicle to be transported interstate is itself commerce, as that term was understood at the time of the Arbitration Act's enactment in 1925. Airplane cargo loaders, as a class, are engaged in that commerce, in much the way that seamen and railroad employees were, and Saxon and the ramp supervisors are members of that class. It therefore follows that they are transportation workers whose contracts of employment are exempted from the Arbitration Act."
Viking River: California's PAGA in the Spotlight
We have reported many times on Iskanian v. CLS Transportation Los Angeles, LLC, 59 Cal.4th 348, 327 P.3d 129 (Calif. 2014), cert. den., 135 S.Ct. 1155 (2015), where a divided 4-3 California Supreme Court – complete with partial concurrences and dissents – held that an employee could pursue claims against his employer under the California Private Attorneys General Act ("PAGA"), despite the existence of an arbitration agreement waiving such claims (see, for example, SAA 2015-01 and SAAs 2014-41 & -24).
No SCOTUS Review of FAA Preemption …
But did the U.S. Supreme Court's subsequent decision in Epic Systems Corp. v. Lewis, 138 S.Ct. 1612 (2018), holding that class or collective action waivers were enforceable under the Federal Arbitration Act, implicitly overrule Iskanian? The Supreme Court has up to now eschewed the opportunity to review whether PAGA is preempted by the FAA. For example, as reported in SAA 2021-49 (Oct. 21) the Court on October 12 declined to review Campbell v. DoorDash, Inc., No. A159296 (Cal. Ct. App. 2020), pet. for review den., No. S266497 (Cal. Mar. 10, 2021), where that Court held: "Iskanian is good law and California courts remain bound by it." The August 9 Petition for Certiorari in DoorDash, Inc. v. Campbell, No. 21-220, had presented this question: "Whether agreements calling for individual arbitration are enforceable under the Federal Arbitration Act with respect to claims asserted under California's Private Attorneys General Act, Cal. Lab. Code § 2698 et seq."
…Until Now
The question presented in the granted May 10 Petition in Viking River is: "Whether the Federal Arbitration Act requires enforcement of a bilateral arbitration agreement providing that an employee cannot raise representative claims, including under PAGA." Petitioners sought review of Moriana v. Viking River Cruises, Inc., No. B297327 (Cal. Ct. App. 2020), pet. for review den., No. S265257 (Cal. 2020), where the Court of Appeal held: "…. Epic's warning about impermissible devices to get around otherwise valid agreements to individually arbitrate claims notwithstanding, Iskanian remains good law. We therefore reject Viking's characterization of PAGA claims as a transparent device to preclude individualized arbitration proceedings and follow Iskanian, which instead viewed predispute PAGA waivers precluding PAGA actions in any forum as attempts to exempt employers from responsibility for violations of the Labor Code" (footnote omitted).
 … And Another Case is Still Pending
As reported in SAA 2021-37 (Oct. 7), still pending is a September 21 Petition for Certiorari seeking review of Gregg v. Uber Technologies, Inc., No. B302925 (Cal. Ct. App. 2 Apr. 21, 2021), pet. for review den., No. S269000 (Cal. June 30, 2021). The issue presented there is: "Whether agreements calling for individual arbitration are enforceable under the Federal Arbitration Act with respect to claims asserted under the California Labor Code Private Attorneys General Act." The Petition relies heavily on intervening SCOTUS rulings, including Epic Systems. See Uber Technologies, Inc. v. Gregg, No. 21-453.
(ed: *Wow. An arbitration quartet is in the offing – a first. Up until now, the record was a trilogy of arbitration related cases in a single Term. The last time SCOTUS agreed to hear multiple cases involving arbitration was the 2018-19 Term, when the Court accepted for review: Henry Schein, Inc. v. Archer & White Sales, Inc., No. 17-1272; Lamps Plus v. Varela, No. 17-988; and New Prime, Inc. v. Oliveira, No. 17-340. SCOTUS hadn't before heard three arbitration cases during the same Term since 1960, when the Court decided three landmark arbitration cases involving the United Steelworkers Union. These decisions were later dubbed, the "Steelworkers Trilogy." **Notice that SCOTUS previously denied Cert. in Waithaka? We think the question presented in that case – whether the FAA section 1 exemption for classes of workers engaged in foreign or interstate commerce applied to Amazon "Last Mile" drivers – may have been too narrow, while that in Southwest is broader. ***Campbell is listed on page 5 of the October 12 Order List. ****There have been other recent California Court of Appeal cases to the same effect as Campbell: see Winns v. Postmates Inc., No. A155717 (Calif. Ct. App. Dist. 1 Jul. 20, 2021); Herrera v. Doctors Medical Center of Modesto, Inc., No. F080963 (Calif. Ct. App. 5 Aug. 5, 2021); and Williams v. RGIS, LLC, No. C091253 (Calif. Ct. App. 3 Oct. 18, 2021). *****As we've said before, stating the obvious, the Supreme Court's composition has changed since SCOTUS declined to review the original Iskanian holding in 2015. ******We're betting that Cert. will be granted in Gregg, and the case consolidated with Viking River.)
[/column_1]

This post first appeared on the Securities Arbitration Alert blog.  The blog's editor-in-chief is George H. Friedman, Chairman of the Board of Directors for Arbitartion Resolution Services, Inc.
[/column]