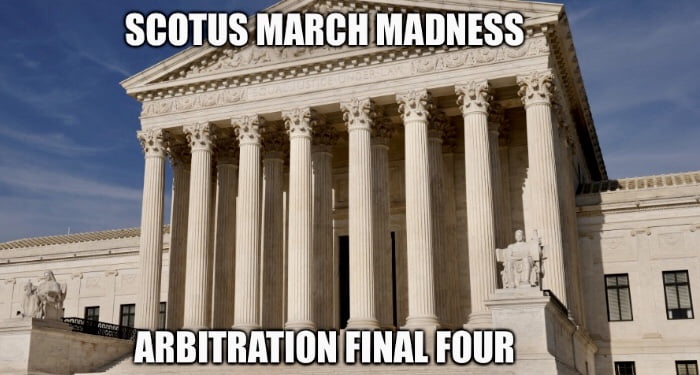 We reported in December that the Supreme Court had granted Certiorari in four cases involving arbitration. The Court has just set the cases for oral argument during the last two weeks of March.
The oral argument calendar released by SCOTUS on January 28 shows that all four cases have been set for oral argument as follows: March 21: Morgan v. Sundance Inc., No. 21-328; March 23: ZF Automotive US, Inc. v. Luxshare, Ltd., No. 21-401, and AlixPartners LLP v. The Fund for Protection of Investors' Rights in Foreign States, No. 21-518; March 28: Southwest Airlines Co. v. Saxon, No. 21-309; and March 30: Viking River Cruises, Inc. v. Moriana, No. 20-1573.
A Brief Review
We covered these cases in detail in SAA 2021-47 (Dec. 16) and in a feature article, After a Lull in 2021, a Busy Year Ahead Arbitration-wise for SCOTUS, 2021:48 Sec. Arb. Alert 1 (Dec. 23, 2021). We provide below a thumbnail on the issues involved.
Morgan: The question presented in the August 27 Petition is: "Does the arbitration-specific requirement that the proponent of a contractual waiver defense prove prejudice violate this Court's instruction that lower courts must 'place arbitration agreements on an equal footing with other contracts?' [in] AT&T Mobility LLC v. Concepcion, 563 U.S. 333, 339 (2011)." The Petition notes that there is a significant split on the issue: "This Court should grant certiorari to resolve a longstanding circuit split on the question whether a party asserting waiver of the right to arbitrate through inconsistent litigation conduct must prove prejudice, and if so, how much. This question not only divides the federal courts of appeals, but divides federal courts from geographically co-located state courts of last resort .…"
ZF Automotive – AlixPartners: The September 10 Petition in ZF Automotive asserts that the question before the Court "is substantively identical to the question presented in Servotronics, Inc. v. Rolls-Royce PLC, No. 20-794 (oral argument originally scheduled for Oct. 5, 2021; case removed from oral argument calendar Sept. 8, 2021): Whether 28 U.S.C. § 1782(a), which permits litigants to invoke the authority of United States courts to render assistance in gathering evidence for use in 'a foreign or international tribunal,' encompasses private commercial arbitral tribunals, as the U.S. Courts of Appeals for the Fourth and Sixth Circuits have held, or excludes such tribunals, as the U.S. Courts of Appeals for the Second, Fifth, and Seventh Circuits have held." The October 5 Petition for Certiorari in AlixPartners, which is consolidated with ZF Automotive, states: "Whereas the arbitration in Servotronics was between two private parties, the arbitration here is between a private party and a foreign state — an application of Section 1782 upon which the United States has expressed 'particular concern.' The question presented is: Whether an ad hoc arbitration to resolve a commercial dispute between two parties is a 'foreign or international tribunal' under 28 U.S.C. § 1782(a) where the arbitral panel does not exercise any governmental or quasi-governmental authority."
Southwest Airlines: Federal Arbitration Act ("FAA") section 1 exempts from the Act: "contracts of employment of seamen, railroad employees, or any other class of workers engaged in foreign or interstate commerce." As we have reported many times, there is a clear Circuit Court split on whether the FAA section 1 exemption embraces only workers actually moving goods or people in interstate commerce (Fifth, Seventh, and Eleventh Circuits) or is to be construed more broadly to cover those who are part of the "flow" or "stream" of interstate commerce (First and Ninth Circuits). The question presented in the August 23 Petition is: "Whether workers who load or unload goods from vehicles that travel in interstate commerce, but do not physically transport such goods themselves, are interstate 'transportation workers' exempt from the Federal Arbitration Act."
Viking River: We have reported many times on Iskanian v. CLS Transportation Los Angeles, LLC, 59 Cal.4th 348, 327 P.3d 129 (Calif. 2014), cert. den., 135 S.Ct. 1155 (2015), where a divided 4-3 California Supreme Court – complete with partial concurrences and dissents – held that an employee could pursue claims against their employer under the California Private Attorneys General Act ("PAGA"), despite the existence of an arbitration agreement waiving such claims (see, for example, SAA 2015-01 and SAAs 2014-41 & -24). But did the U.S. Supreme Court's subsequent decision in Epic Systems Corp. v. Lewis, 138 S.Ct. 1612 (2018), holding that class or collective action waivers are enforceable under the FAA, implicitly overrule Iskanian? The May 10 Petition in Viking River asks: "Whether the Federal Arbitration Act requires enforcement of a bilateral arbitration agreement providing that an employee cannot raise representative claims, including under PAGA."
Déjà Vu All Over Again?
One wonders if SCOTUS is setting up another "Steelworkers Trilogy" scenario, when the Court six decades ago simultaneously decided three landmark arbitration cases involving the United Steelworkers. The three cases, United Steelworkers v. American Manufacturing Co., 363 U.S. 564 (1960); United Steelworkers v. Enterprise Wheel & Car Corp., 363 U.S. 593 (1960); and United Steelworkers v. Warrior & Gulf Navigation Co., 363 U.S. 574 (1960), were all heard the same week (April 27-8, 1960), and the decisions were all announced seriatim on the same day (June 20, 1960). Is SCOTUS planning a redux with the "Arbitration Quartet"? Time will tell.
Unfinished Business
The only arbitration-centric case remaining from the Court's 2021 oral argument docket, Badgerow v. Walters, No. 20-1143, was heard November 2021. As reported in SAA 2021-19 (May 20), the Supreme Court in May 2020 granted Certiorari in this case involving application of the "look through" standard. Specifically, the Court agreed to review Badgerow v. Walters, 975 F.3d 469 (5th Cir. 2020), a case we analyzed in SAA 2020-36 (Sep. 23). In the underlying case, the Fifth Circuit held that the District Court was correct when it applied the "look through" standard to determine that it could remove a state court action to vacate an Award. What is this standard? The Supreme Court in Vaden v. Discover Bank, 556 U.S. 49 (2009), held that jurisdiction over a petition to compel arbitration under FAA section 4 is determined by the nature of the underlying dispute. This was based on section 4 language providing that a motion to compel arbitration can be brought in "any United States district court which, save for such agreement, would have jurisdiction under title 28, in a civil action or in admiralty of the subject matter of a suit arising out of the controversy between the parties." The Vaden standard became known as the "look through" standard. The specific issue identified for review in the Petition for Certiorari in Badgerow is: "Whether federal courts have subject-matter jurisdiction to confirm or vacate an arbitration award under Sections 9 and 10 of the FAA where the only basis for jurisdiction is that the underlying dispute involved a federal question."
(ed: *It's probably just a coincidence, but the cases are being heard in the precise order in which Cert. was granted. **One would think a decision in Badgerow isn't far away.)

This post first appeared on the Securities Arbitration Alert blog.  The blog's editor-in-chief is George H. Friedman, Chairman of the Board of Directors for Arbitartion Resolution Services, Inc.