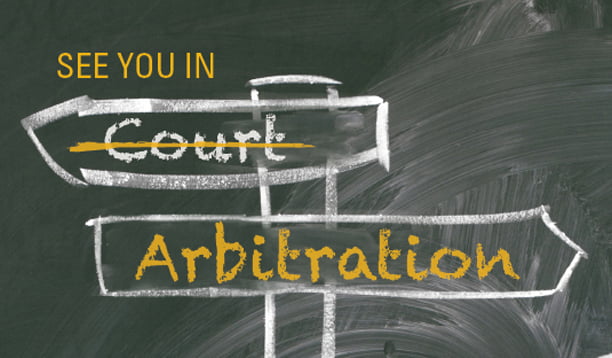 A split Ninth Circuit has finally ruled on the validity of AB-51, which would restrict predispute arbitration clauses ("PDAA") in employment relationships. The mandatory PDAA preclusions in the new law withstand Federal Arbitration Act ("FAA") preemption scrutiny, but the criminal and civil penalties for mandatory PDAA use do not.
We sometimes wonder whether courts read the Alert. Just about a month after SAA 2021-32 (Aug. 19) wondered about when we might expect a decision soon from this Court on an FAA preemption challenge to AB-51, a split Court holds in Chamber of Commerce of the United States v. Bonta,* No. 20-15291 (9th Cir. Sep. 15, 2021), that the bulk of the law is not preempted by the FAA.
California AB-51: A Review
As reported in SAA 2020-05 (Feb. 5), the federal District Court in Chamber of Commerce of the United States v. Becerra, No. 2:19-at-01142 (E.D. Calif. 2019), issued a preliminary injunction staying the planned January 1, 2020 implementation of California AB-51, pending final determination on the merits of a suit challenging the statute. The law would have essentially banned mandatory arbitration of employment discrimination, sexual harassment, and wage law disputes. The statute also provides that an employer can't: "threaten, retaliate or discriminate against, or terminate" an employee or job applicant who refuses to consent to waiver. There are both civil and criminal penalties for violations, but the law has some carve-outs seemingly included to avoid FAA and federal securities acts preemption. The Plaintiffs were seeking declaratory and injunctive relief — based on FAA preemption — to block effectiveness of AB-51.
Preliminary Injunction Issued, Appeal Filed
After temporarily restraining California from enforcing the law, the District Court in a Minute Order issued January 31, 2020,  granted in full the request for a preliminary injunction enjoining California from enforcing the new law. District Court Judge Kimberly Mueller's 36-page Opinion found that the Plaintiffs were likely to prevail on their FAA preemption arguments and would suffer irreparable harm in the interim. The State then appealed to the Ninth Circuit in February 2020, and filed its brief in May. The core argument in the 66-page brief? "The district court abused its discretion, committing legal error, by assuming the Federal Arbitration Act (FAA) and its preemption jurisprudence applied to the new sections of the California Labor Code and Government Code added by California Assembly Bill 51 (AB 51). But the two key substantive provisions of AB 51, Labor Code Section 432.6 subdivisions (a) and (b), do not prohibit parties from entering into arbitration agreements or prevent their enforcement. Instead, they regulate employer conduct, prohibiting actions by employers that require applicants or employees to waive rights as a condition of employment, and prohibiting discrimination, retaliation, and termination of employees that decline to enter into such waivers."
Oral Argument December 2020
We reported in SAA 2020-47 (Dec. 27, 2020) that the Ninth Circuit on December 7, 2020, had heard oral argument in Chamber of Commerce of the US v. Becerra, No. 20-15291, an FAA preemption challenge to AB-51. The Court posted in several formats audio and video recordings of the 43-minute oral argument. The Chamber's brief can be found here; the State's here. The Panel that heard the appeal was: Carlos Lucero (Clinton appointee, sitting by designation), William Fletcher (Clinton), Sandra Segal Ikuta (G.W. Bush).
Ninth Circuit Majority: FAA Does Not Preempt Part of AB 51…
On September 15, 2021, a split Court finds that the general restrictions on mandatory PDAA use are consistent with the FAA. Says the majority: "[T]he FAA does not require parties to arbitrate when they have not agreed to do so." Volt Info. Scis., Inc. v. Bd. of Trustees of Leland Stanford Junior Univ., 489 U.S. 468, 478 (1989)…. Today we are asked to abandon the framework of FAA preemption of state rules that selectively invalidate or refuse to enforce arbitration agreements, ignore the holding of Volt, and nullify a California law enacted to codify what the enactors of the FAA took as a given: that arbitration is a matter of contract and agreements to arbitrate must be voluntary and consensual. As we read California Labor Code § 432.6, the state of California has chosen to assure that entry into an arbitration agreement by an employer and employee is mutually consensual and to declare that compelling an unwilling party to arbitrate is an unfair labor practice. We are asked by plaintiffs to hold that the FAA requires parties to arbitrate when but one party desires to do so. Our research leads to nothing in the statutory text of the FAA or Supreme Court precedent that authorizes or justifies such a departure from established jurisprudence, and we decline to so rule. Thus, we must reverse the judgment of the district court." The preliminary injunction is vacated as a result.
… But Criminal and Civil Penalties Are Preempted
The majority rules, however, that the potential criminal and civil penalties imposed on employers are preempted by the FAA: "… operation of other provisions within the California Code renders a violation of § 432.6 a misdemeanor offense and opens an employer to potential civil sanctions. The imposition of civil and criminal sanctions for the act of executing an arbitration agreement directly conflicts with the FAA and such an imposition of sanctions is indeed preempted. We therefore affirm the district court as to the application of Labor Code § 433 and Government Code § 12953 to arbitration agreements covered by § 1 of the FAA."
Dissent by Judge Ikuta
Judge Ikuta offers a blistering, humorous dissent: "Like a classic clown bop bag, no matter how many times California is smacked down for violating the Federal Arbitration Act (FAA), the state bounces back with even more creative methods to sidestep the FAA. This time, California has enacted AB 51, which has a disproportionate impact on arbitration agreements by making it a crime for employers to require arbitration provisions in employment contracts. Cal. Lab. Code §§ 432.6(a)–(c), 433; Cal. Gov't Code § 12953. And today the majority abets California's attempt to evade the FAA and the Supreme Court's caselaw by upholding this anti-arbitration law on the pretext that it bars only nonconsensual agreements. The majority's ruling conflicts with the Supreme Court's clear guidance in Kindred Nursing Centers Ltd. Partnership v. Clark, 137 S. Ct. 1421, 1428–29 (2017), and creates a circuit split with the First and Fourth Circuits. Because AB 51 is a blatant attack on arbitration agreements, contrary to both the FAA and longstanding Supreme Court precedent, I dissent."
(ed: *California Attorney General Rob Bonta was substituted for his predecessor, Xavier Becerra. **We continue to see this one as destined for SCOTUS, with perhaps a Petition for en banc review along the way. ***As reported previously, the U.S. Chamber has a Webpage dedicated to this case. ****An Alert h/t to Editorial Board member Peter R. Boutin, Esq., of Keesal, Young & Logan, for alerting us to this decision.)

This post first appeared on the Securities Arbitration Alert blog.  The blog's editor-in-chief is George H. Friedman, Chairman of the Board of Directors for Arbitartion Resolution Services, Inc.