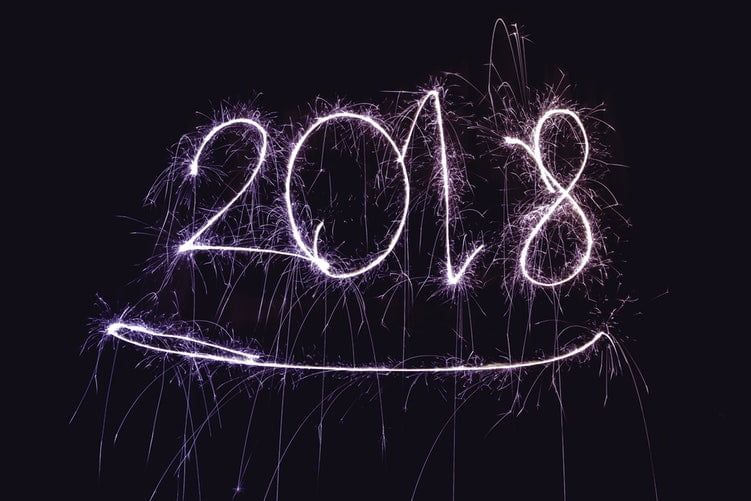 I blogged recently about how well I did on my predictions for 2017 (you can tell from the title, A Final Report Card on My 2017 Arbitration Predictions: "Pretty, Pretty, Pretty, Pretty Good!"). As my thoughts turned to 2018, it occurred to me that many of my predictions for the new year are very similar to last year's, except I can insert the word "still" somewhere in most of them:
President Trump Still Likes Arbitration
The Anti-Arbitration Legislation is Still (Mostly) Dead
SCOTUS' Support for Arbitration Will Still Continue Unabated
Still Expect Dodd-Frank to be Repealed and Replaced
Say Goodbye to the Department of Labor's Fiduciary Rule
The President Eventually Will Win the War over CFPB's Leadership
President Trump Still Likes Arbitration
As I detailed in my recent "report card" blog post, it is at this point undisputed that President Trump believes in the arbitration process, and will defend it if the need arises. Also, candidate Trump in 2016 promised that there would be less regulation, and that certainly proved to be the truth in 2017 with President Trump. Several anti-arbitration Obama-era regulations were rolled back either by Executive Order or Congressional nullification, and various federal agencies have done an about-face on predispute arbitration agreements.
The Department of Justice has in court cases taken the position that it will not enforce regulations that it thinks run afoul of the Federal Arbitration Act. For example, the Department of Labor is defendant in Thrivent Financial for Lutherans v. Acosta, No. 0:16-cv-03289, a challenge to the anti-class action waiver part of the DOL's Fiduciary Standards Rule (see discussion in Prediction # 5 below). On November 3rd, the Court issued an injunction, finding both the likelihood of success on the merits and irreparable injury. District Judge Susan Richard Nelson writes in her 21-page Opinion and Order: "DOL now concedes that the BIC Exemption's anti-arbitration condition contravenes the FAA, and asserts that it will not enforce violations of that condition against Thrivent."
And the President ordered the Centers for Medicare and Medicaid Services ("CMS"), which in late 2016 issued a final regulation banning nursing homes and long-term care facilities receiving federal funds from using mandatory predispute arbitration agreements, to drop its appeal of a Court decision[1] staying implementation of the Rule. On June 2nd, CMS dropped its appeal and on June 5 published in the Federal Register an amended regulation eliminating the ban on predispute arbitration agreements and establishing fairness requirements for PDAA use.[2]
Prediction: Any anti-arbitration bills that somehow reach the President's desk will almost invariably[3] be vetoed, and any Congressional Nullification Resolutions involving rollbacks of anti-arbitration regulations will be signed. Also look for more Executive Orders from Mr. Trump expanding use of arbitration by the federal government, and undoing any remaining anti-arbitration directives issued by his predecessor. And, we shouldn't be surprised if the Department of Justice switches sides again in other court cases involving arbitration.
All the Anti-Arbitration Legislation is Still (Mostly) Dead
The Democrats in 2017 introduced several anti-arbitration Bills in the new Congress, that have predictably gone nowhere so far as described in my blog post, Baseball Season is Here! You Can't Tell the Anti-Arbitration Bills Without a Scorecard.
Prediction: For the most part, these Bills will continue to go nowhere; they are "mostly dead."[4] Just as occurred in 2016… and 2015… and 2014. Why the "for the most part" qualification? In the wake of seemingly daily accusations of workplace sexual harassment, bipartisan Bills were introduced December 6th in both Houses of Congress that would amend the Federal Arbitration Act to ban predispute arbitration agreements covering sexual discrimination disputes. Specifically, S. 2203 and H.R. 4570 — the Ending Forced Arbitration of Sexual Harassment Act — were introduced by Sen. Kirsten Gillibrand (D-NY) and Rep. Cheri Bustos (D-IL). The Bills, which have bipartisan support in both institutions, would ban PDAAs for "a dispute between an employer and employee arising out of conduct that would form the basis of a claim based on sex under title VII of the Civil Rights Act of 1964 (42 U.S.C.2000e et seq.) if the employment were employment as defined in section 701(b) of that title regardless of whether a violation of title VII is alleged…" I predict some iteration[5] of the law will be passed by Congress, and I sense that the President will sign it.
SCOTUS' Support for Arbitration Will Still Continue Unabated
President Trump in 2017 nominated and the Senate confirmed the apparently pro-arbitration[6]  Justice Neil Gorsuch. The first real test of Justice Gorsuch's arbitration views will be in Epic Systems Corp. v. Lewis, 137 S. Ct. 809 (2017), three consolidated cases pending at the Supreme Court involving whether the Federal Arbitration Act prevails over the National Labor Relations Act when it comes to enforcing class action waivers in employment arbitration agreements. The case was heard October 2, with the Department of Justice arguing against its own federal agency.[7]
Prediction: I predict a close decision from SCOTUS in Epic Systems reaffirming the preemptive effect of the FAA over other federal laws that do not expressly preclude arbitration, with Justice Gorsuch voting with the pro-arbitration camp. Mind you, I wouldn't be completely shocked by a narrow 5-4 decision in the opposite direction. Further, I think Justice Gorsuch will reaffirm this year that he is indeed pro-arbitration.
As for other potential topics for Supreme Court review, once SCOTUS clears the arbitration decks by ruling in Epic Systems, perhaps the Court will take up a split in the Circuits on a vexing procedural issue, specifically: whether Arbitrators can under the Federal Arbitration Act issue third-party discovery subpoenas? Section 7 of the FAA provides that the Arbitrator "may summon in writing any person to attend before them or any of them as a witness and in a proper case to bring with him or them any book, record, document, or paper which may be deemed material as evidence in the case." Joining the Second, Third, and Fourth Circuits, the Ninth Circuit unanimously held recently in CVS Health Corp. v. Vividus, LLC and Express Scripts, Inc., No. 16-16187 (Dec. 21, 2017), that the FAA does not empower Arbitrators to compel third-parties to produce documents outside the formal evidentiary arbitration hearing. The Eighth Circuit went the other way in In re Security Life Insurance Co. of America, 228 F.3d 865 (2000). This issue seems to come up often and would be a good one for the Court to finally resolve.
Still Expect Dodd-Frank to be Repealed and Replaced
On June 8th the House of Representatives by a 233–186 strictly party-line vote approved the reintroduced Financial CHOICE Act. Not a single Democrat voted "Yea" and only one Republican – Rep. Walter Jones (NC) – voted "Nay." Among other things, the 602-page Act (H.R. 10) would repeal and replace Dodd-Frank, and would eliminate the authority granted to both the CFPB and SEC to limit or eliminate predispute arbitration agreements, or set conditions for their use. Also, the Act would rename the Consumer Financial Protection Bureau the Consumer Law Enforcement Agency and transform it into an executive agency with a Director terminable at will by the President. The Senate has yet to act.
Prediction: Sooner or later, Dodd-Frank will in word or deed be repealed and replaced this year with a statute along the lines of the Financial CHOICE Act. While the new law will incorporate some features of Dodd-Frank, the current law's authority for SEC and CFPB to possibly develop regulations banning, limiting, or conditioning predispute arbitration clause use will not make the cut, in my view.
Say Goodbye to the Department of Labor's Fiduciary Rule
The Department of Labor in April 2016 approved a Fiduciary Standard Rule for those providing investment advice in connection with retirement accounts. The regulation allows for use of a Best Interests Contract ("BIC") with investors containing a predispute arbitration agreement, but class action waivers are not permitted. President Trump on February 3rd ordered the Secretary of Labor to undertake a review of the Rule, that had been scheduled to go into effect in phases starting April 10. DOL announced on April 4th that it was delaying for 60 days the Rule's implementation. Thus, the first phase of the Fiduciary Standard Rule went into effect starting June 9th and a second phase was to be implemented January 2018.
DOL later filed a proposal to delay until July 2019 the planned January 2018 implementation of Phase II of the Rule ("18-Month Extension of Transition Period and Delay of Applicability Dates; Best Interest Contract Exemption; Class Exemption for Principal Transactions; PTE 84-24"). The delay became official on November 29 when a Notice was published in the Federal Register.[8]
Also, the SEC has taken the first steps on moving ahead with its own rule, as authorized by Dodd-Frank section 913(g)(1). Chairman Jay Clayton's June 1 Public Statement, announcing that the SEC is seeking public comments on developing a consistent approach to investment advice standards, expressed the Commission's willingness to work with DOL on a uniform approach. And, the day after the DOL officially delayed implementation of Phase II of its Fiduciary Rule, SEC Chairman Clayton again said that the SEC would be moving ahead with its own Rule.
Prediction: The review ordered by the President almost a year ago will conclude that the DOL's Fiduciary Standards Rule is confusing, costly, and duplicative. It will recommend the Rule be scrapped in favor of a unified Rule to be promulgated by the SEC.
The President Eventually Will Win the War over CFPB's Leadership
As predicted, the CFPB's Arbitration Rule was retroactively nullified November 1, when President Trump signed into law a Joint Disapproval and Nullification Resolution. CFPB on November 22nd officially removed the now-defunct Rule[9] from the Code of Federal Regulations by publishing a brief Notice in the Federal Register;[10] the Rule is no more and never was. But that was not the big news from the CFPB.
Before he could be fired by the President, Director Richard Cordray announced via a November 15th email to staff that he would be departing the Bureau by the end of the month.[11] This immediately led to conjecture that the President would name as Acting Director the current head of Office of Management and Budget, Mick Mulvaney. Later, Mr. Cordray suddenly announced on November 24 that he was leaving at the end of the day. However, before he left Mr. Cordray named as Acting Director staffer Leandra English. President Trump later that same day issued a Statement making official Mr. Mulvaney's designation as Acting Director, touching off an ugly power struggle over who was in charge of the agency. How ugly? Some highlights are offered below, but for chapter and verse, see my blog post, Richard, Here's Another Nice Mess You've Gotten Us Into!
On November 26, Ms. English sued President Trump and Mr. Mulvaney, seeking both an emergency temporary restraining order and declaratory relief recognizing her as the Bureau's Acting Director (see complaint in English v. Trump and Mulvaney, 1:17-cv-02534 (D.D.C.)), but on November 28, Judge Timothy J. Kelly, a Trump appointee, issued a ruling from the bench denying the request for an emergency TRO. On December 6, Ms. English filed a 12-page motionfor a preliminary injunction, and on December 18th, the Department of Justice filed the CFPB's opposition. Ms. English filed a 16-page response to DOJ's opposition on December 20th. The Court held a hearing December 22nd but has not yet made a decision.[12]
In the meantime, Mr. Mulvaney has consolidated power. On November 27, he conducted a 20-minute press conference at which he announced 30-day freezes on hiring, rules, regulations, and guidance. Later that day, the CFPB Website and org chart were updated to show Mr. Mulvaney as Acting Director. On November 28, Mr. Mulvaney established a Twitter account, @CFPBDirector. His first tweet was: "Busy day at the @CFPB. Digging into the details," accompanied by a photo of the Acting Director sitting at his desk. Mr. Mulvaney named as senior advisor Brian Johnson, the House Financial Services Committee's Senior Counsel. Mr. Mulvaney also gave a brief interview December 1st on "Lou Dobbs Tonight," where he criticized the CFPB: "The structure of the CFPB is just fundamentally flawed. The authority I have now as the acting director really should frighten people. You can sit down in a room with three or four people, and say, well, let's go off and do this, and there is no accountability to Congress."
Prediction: Sooner or letter, one way or the other, the President will prevail. Either he will win the legal challenges – which I predict he will – or he will simply nominate a new Director whom the Senate will confirm.
Conclusion
As I say every year, the arbitration world is constantly changing, and will evolve yet again next year. Doubtless there are some things that will happen in 2018 that I just don't see coming right now. And of course, some of my predictions may not come to pass, at least not yet. We will again compare notes in a year. In the meantime, see you in the future!
——————————–
*George H. Friedman, Chairman of the Board of Directors of Arbitration Resolution Services, Inc. and an ADR consultant, retired in 2013 as FINRA's Executive Vice President and Director of Arbitration, a position he held from 1998. In his extensive career, he previously held a variety of positions of responsibility at the American Arbitration Association, most recently as Senior Vice President from 1994 to 1998. He is an Adjunct Professor of Law at Fordham Law School. Mr. Friedman serves on the Board of Editors and is a Contributing Legal Editor of the Securities Arbitration Commentator.  He is also a member of the AAA's national roster of arbitrators.  He holds a B.A. from Queens College, a J.D. from Rutgers Law School, and is a Certified Regulatory and Compliance Professional.
[1] See American Health Care Association v. Centers for Medicare, No. 3:16-CV-00233 (N.D. Miss. Oct. 17, 2016), which sought an injunction, asserted that CMS exceeded its statutory authority and that the regulation runs afoul of the Federal Arbitration Act. On November 7th Judge Michael Mills issued a 40-page decision granting the request for an injunction.
[2] A CMS Factsheet leads with news that the prohibition on PDAAs is out, and then states the proposed regulation adds several requirements for PDAA use.
[3] As described in Prediction # 2, there's one proposed anti-arbitration law that has a reasonably good chance of being enacted.
[4] No George Friedman blog post is complete without a video clip. This one is Billy Crystal's classic "mostly dead" routine from The Princess Bride.
[5] Right now, the Bill is too broadly drafted. It will I'm sure be cleaned up before a vote.
[6] See Friedman, G., Supreme Court Nominee Gorsuch Seems to be Pro-Arbitration! (February 2017).
[7] See for yourself by reading the oral argument transcript or listening to the audio recording.
[8] 82 FR 56545 (Vol. 82, No. 228, P. 56545, November 29, 2017).
[9] I actually liked some of the CFPB's Rule, as I blogged November 1 in Let's Not Toss Out the Data-gathering Baby with the CFPB Arbitration Rule Bathwater.
[10] 82 FR 55500 (Vol. 82, No. 224, P. 55500, November 22, 2017).
[11] On December 5, Mr. Cordray announced he was running for Ohio Governor.
[12] A new legal challenge emerged on December 5, with the filing of Lower East Side People's Federal Credit Union v. Trump and Mulvaney, No. 17 Civ. 9536 (S.D.N.Y.). The Complaint asked the Court to declare Mr. Mulvaney's appointment unlawful and to designate Ms. English as Acting Director. Judge Paul Gardephe, a President George W. Bush appointee, has set a hearing for January 12th.